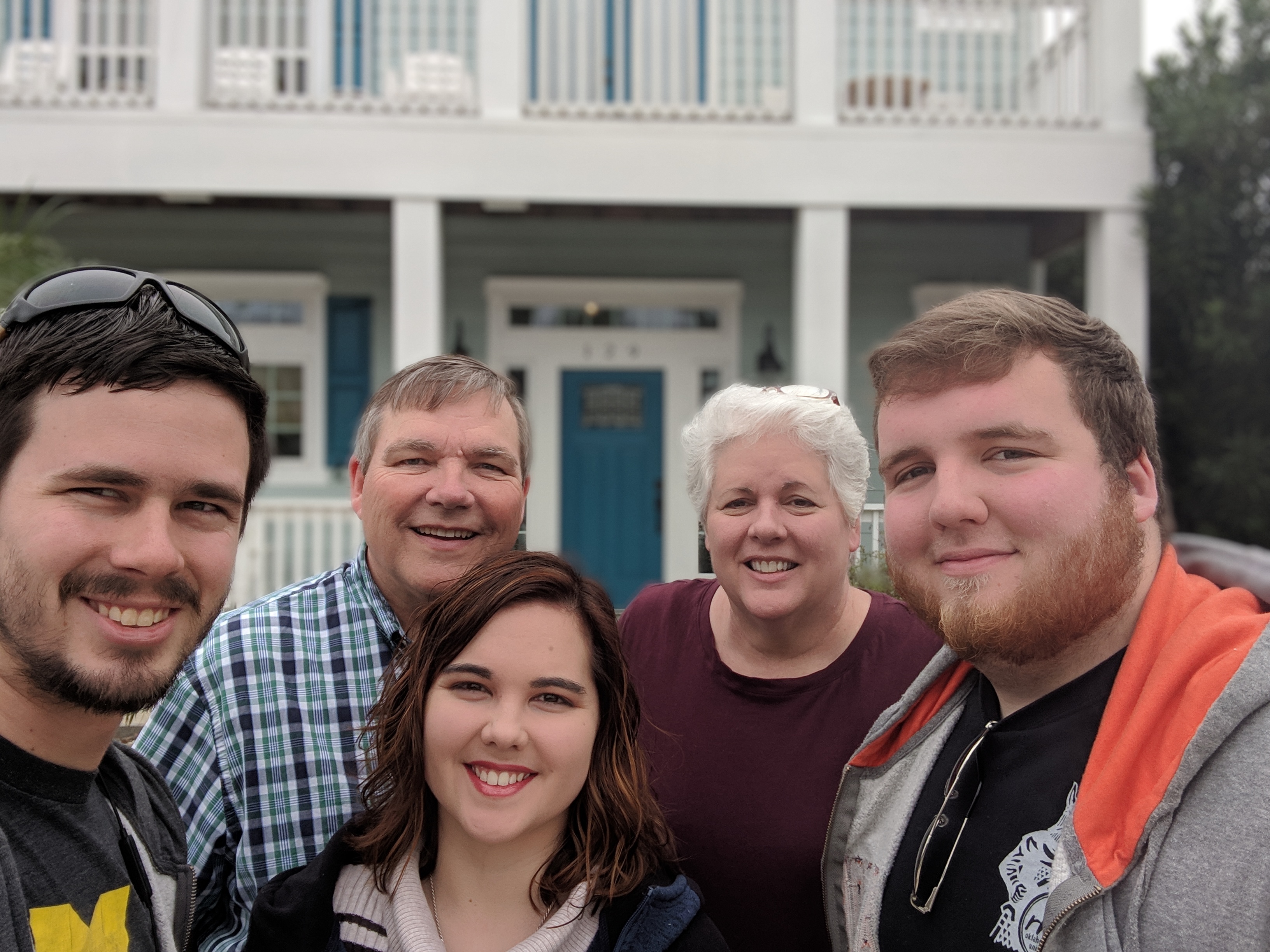 Vacation time for my side of family!
Mom suggested that we go to the beach as a family this year, and we all quickly agreed. We hadn't traveled as a family in a while, and not for vacation since Corey and I got married. So it was time for a getaway.
She took the lead on planning, from finding dates to booking the VRBO.  When she was looking around at places to go when she found a little town called Port Aransas, Texas. It's on the same island as South Padre (y'know, the huge spring break spot), and it's in the same general vicinity as Corpus Christi. Now, I go to that area all the time for work. I had a project down there to rebuild one of our substations that Hurricane Harvey flattened, and I've traveled around that area for various other reasons. So, when Mom asked if I'd heard of Port A, I had to laugh. Not only had I heard of it, but I was relatively familiar with it already, at least as far as my company's stuff went. But I'd never been in the area as a tourist before, and there were some things that I wanted to do: explore the Lexington, visit the aquarium, and ride horses on the beach – more on those later.
Wednesday was pretty much just a travel day for everyone. Corey and I woke up stupid early (~3:30am) to catch an early flight. My parents were not too far behind us. Aaron, my little brother, got lucky and could sleep in till almost 9am! We met up with my parents on our layover in Dallas since we were on the same flight from Dallas to Corpus Christi. Well, I take that back. We were on the same two flights. We flew from Dallas to Houston, landed, didn't change planes, then flew from Houston to Corpus. It was on the ticket like that, but we'd never been on a leg of a flight that was set up that way. It was odd. With all of that (layovers, multiple 1-hr-long hops, etc), I got 4 episodes of Outlander watched, but that was the most eventful part of the flights! Aaron got in around 5pm that evening.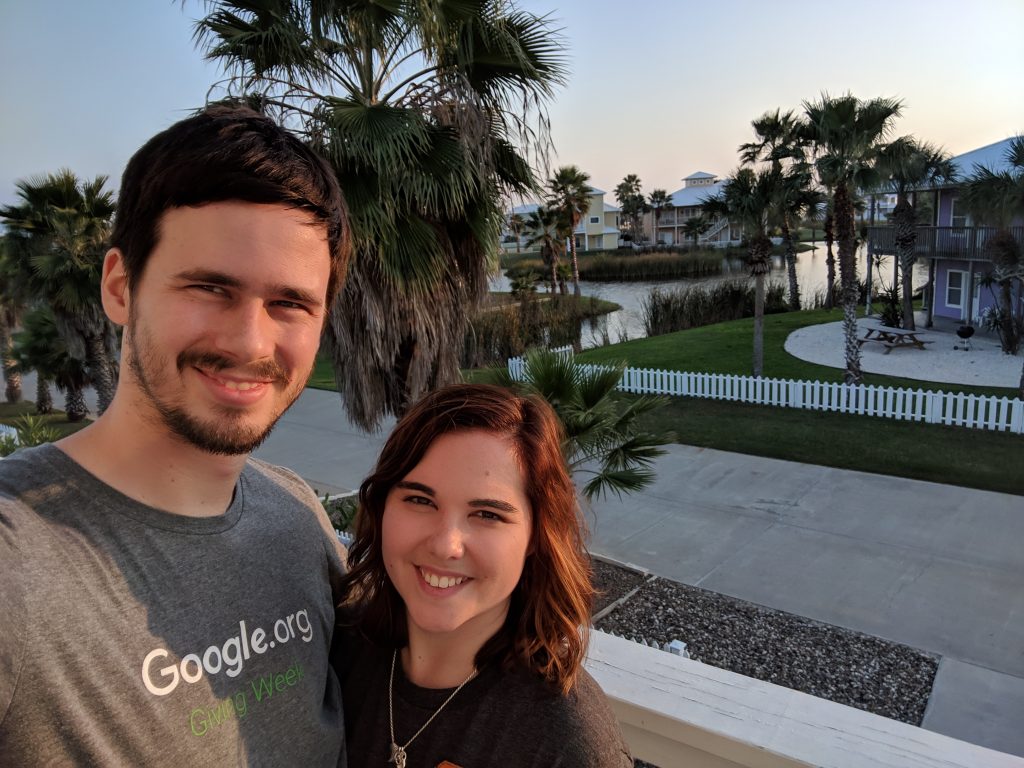 Part of the reason for this trip is resurrecting/reinventing some family vacation traditions we used to have. My parents, brother, and I used to vacation with my aunt and uncle (my mom's brother and sister-in-law) and my two cousins and the shared grandparents every year before my grandpa got sick. We went to Breckenridge, CO every year for several years, but before that, we would all meet up in Kittyhawk, NC for some beach time. We'd all share a rental house, get groceries and cook, and relax. We've since all gotten busy, and schedules haven't lined up for us to travel together since the early 2000's. Not to mention that the shared grandparents are now partying with Jesus in the next life. So this trip was a way of recreating some of those traditions. More on that later, but the first was baking a frozen lasagna for dinner the first night after picking up groceries. Corey and I baked that while Mom and Dad went to rescue Aaron from the perils of the Corpus Christi airport.
Another tradition we tried to resurrect on this vacation was the adults having coffee on the porch in the mornings. Us kids would always sleep in until forced to get up, but the adults would make a pot of coffee and hang out on the porch/deck. The house we rented did have a screened-in sunroom, so we tried doing the "coffee on the porch" thing on Thursday morning. Turns out that the Corpus Christi area is humid (who would have thought, being right on the water!), so that plan was quickly scrapped.
When we decided it was finally time to get up and about – y'know, after a lazy morning, since that's what vacation is for – we headed to the USS Lexington in Corpus.We spent a solid 4 hours exploring this place! I'm pretty sure this was Dad's favorite part of the trip, being retired military.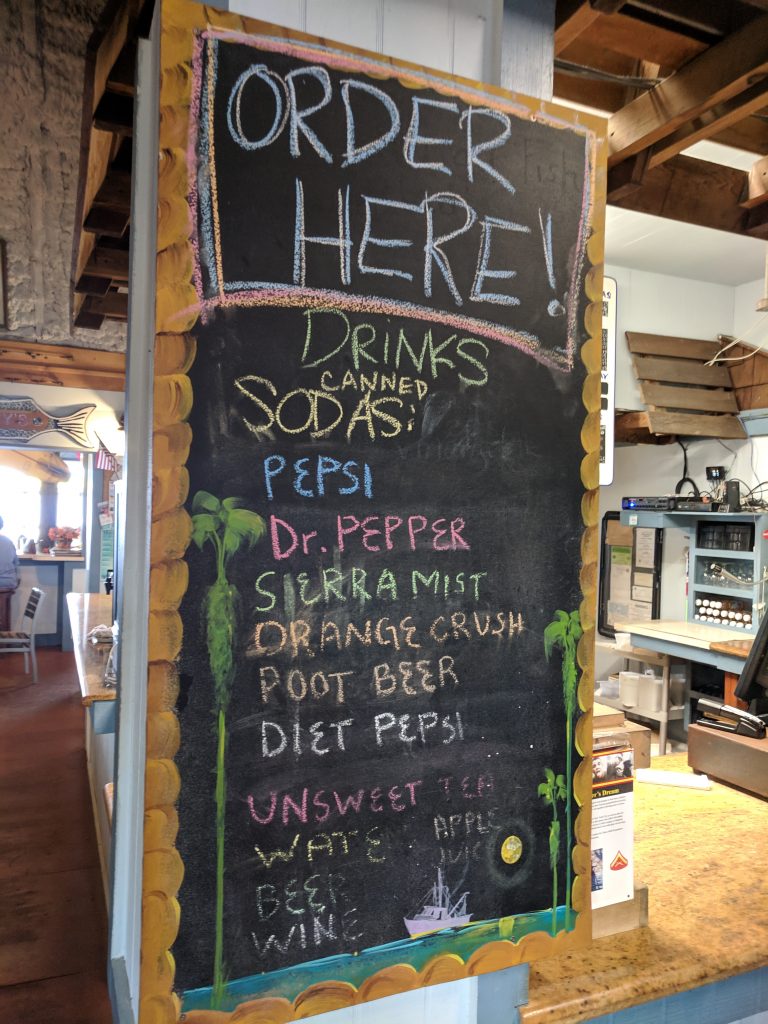 The Lexington is a decommissioned aircraft carrier, and the entrance is on the hanger deck, where they stored the planes they carried.  After meandering around the hanger deck, we went up the flight deck, where the planes would launch and land. There were dozens of display planes anchored on deck, and Dad seemed to know them all.  It was a lot of fun seeing him explore like that.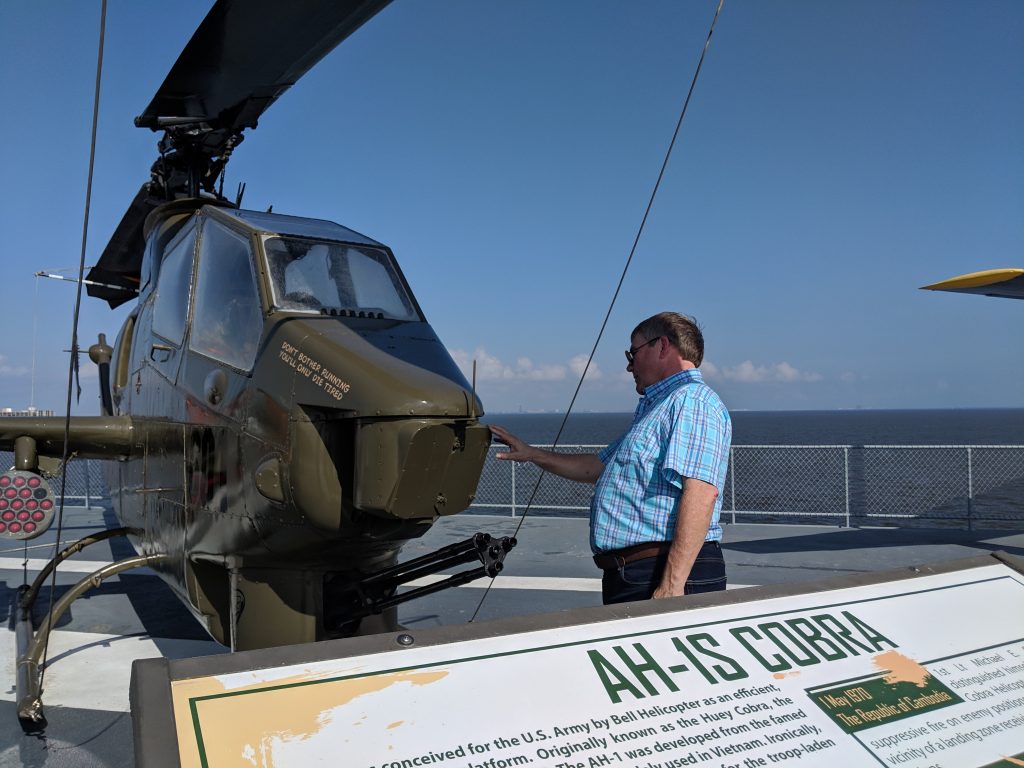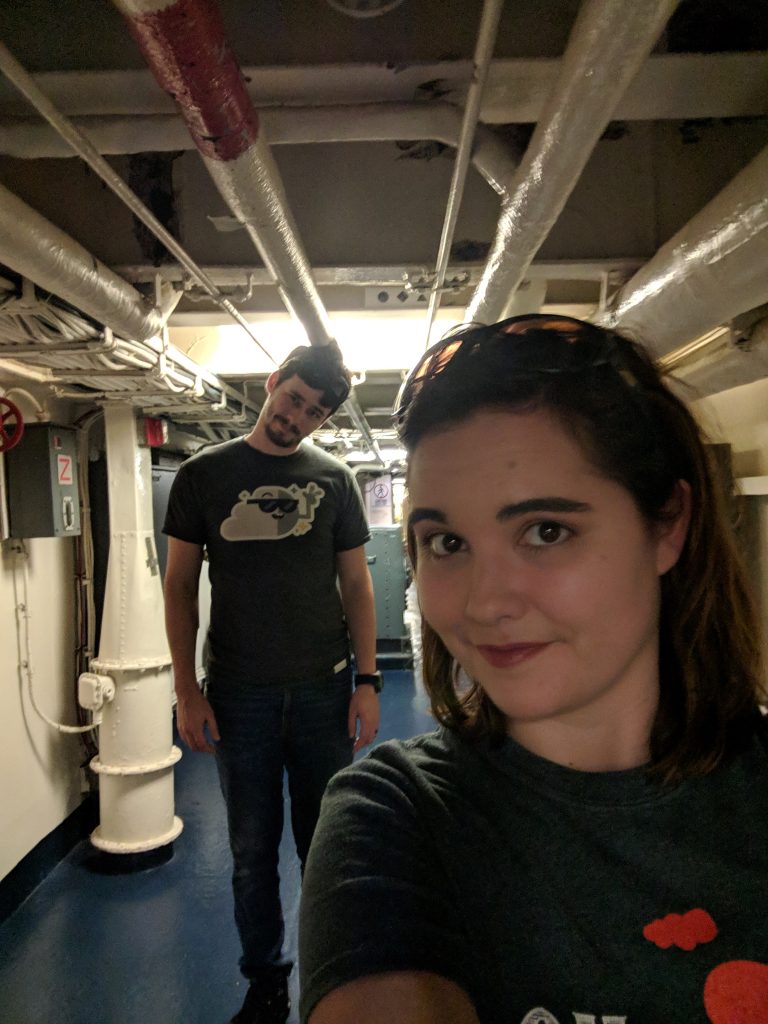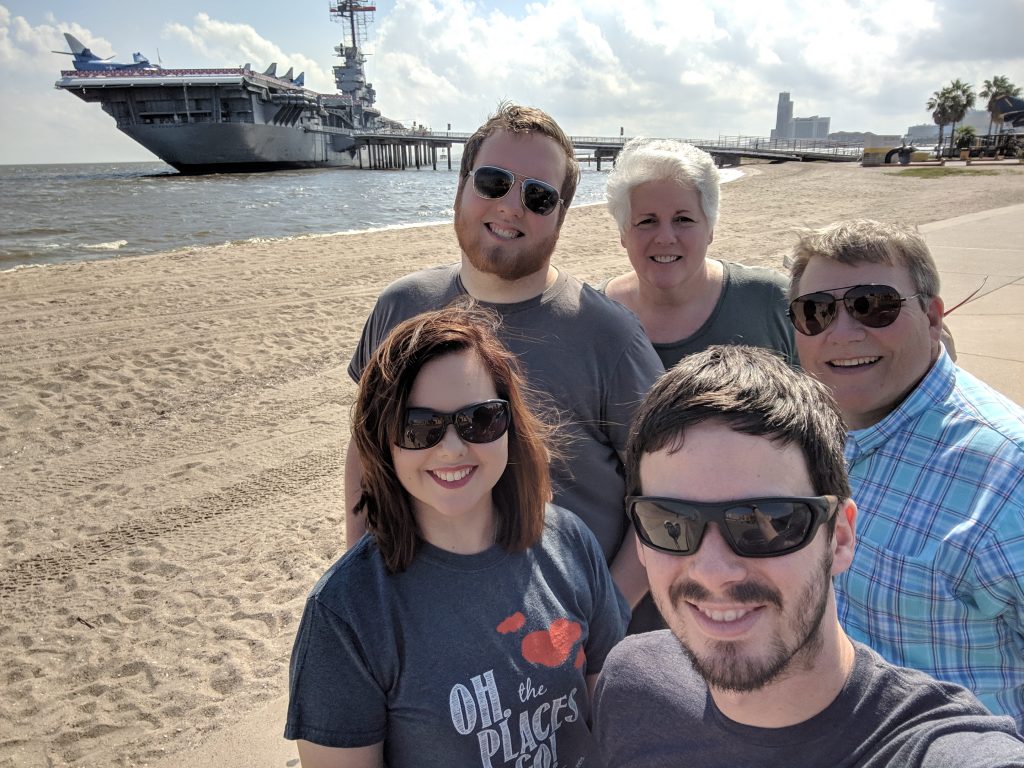 On Friday, we had another lazy morning, and then we headed to the Art Museum of South Texas, also in Corpus. Aaron has turned into the "artsy" one of the family, so this was his suggestion. We had planned to do things indoors that day anyway, since rain was in the weather forecast. What we didn't plan on was showing up to an art museum drenched to the skin just from walking to the door!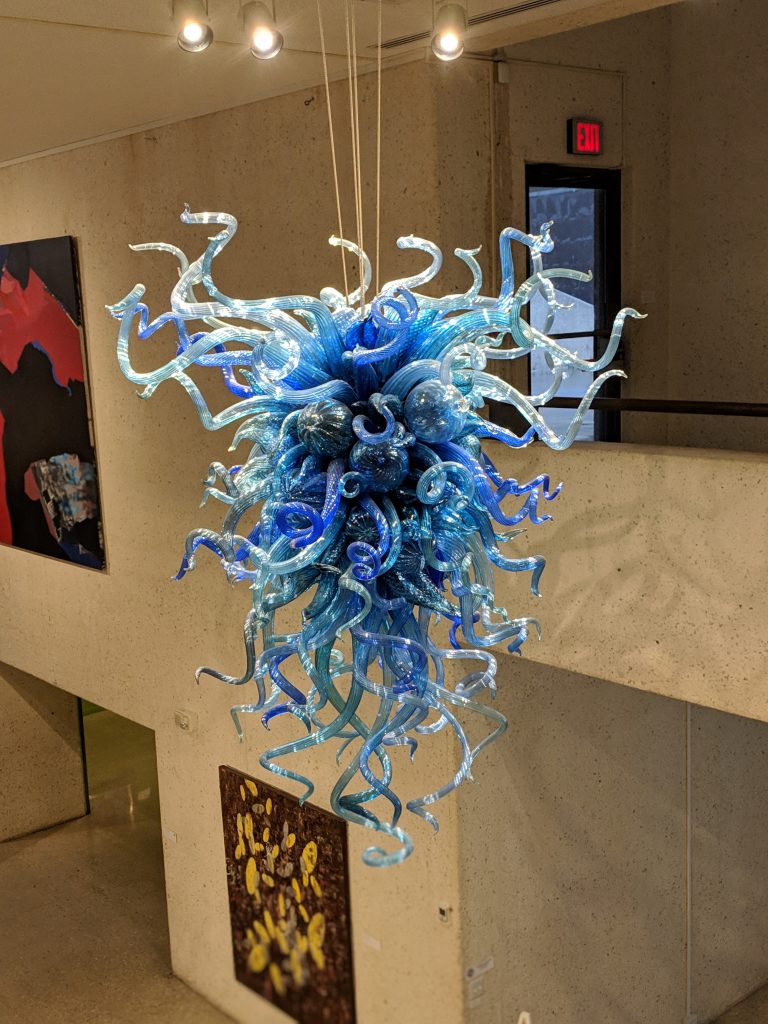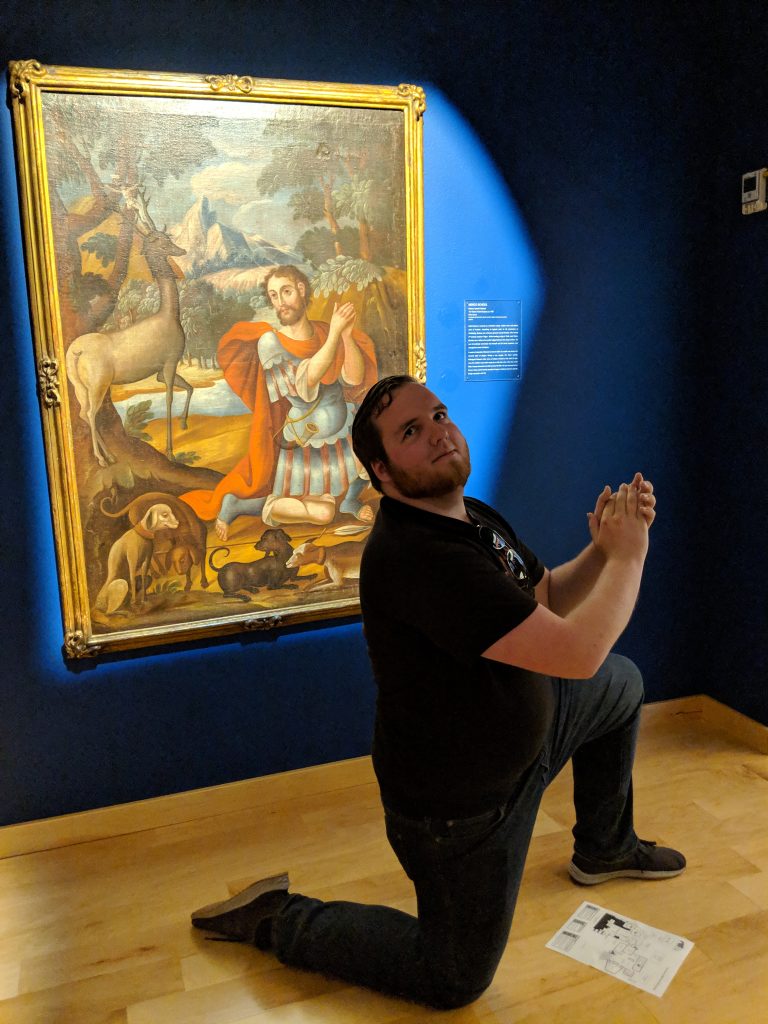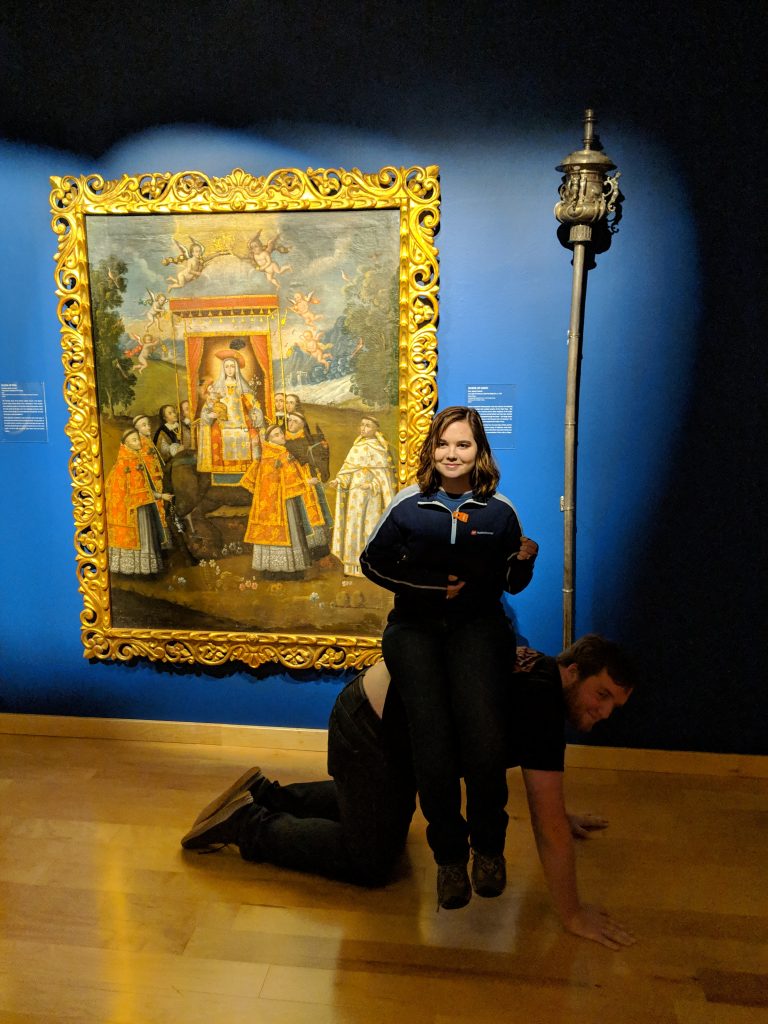 On Friday evening, we resurrected another old family tradition – celebrating birthdays on vacation! We used to vacation in May, but out of the kids that would go (my two cousins, Aaron, and me), only one of us actually had a May birthday. So the rest of us would celebrate half-birthdays! We did the same thing on this vacation. We had mini cupcakes, watched the Nick Offerman video on YouTube where he just drinks whiskey by the fire, and marveled at our new socks. It was awesome.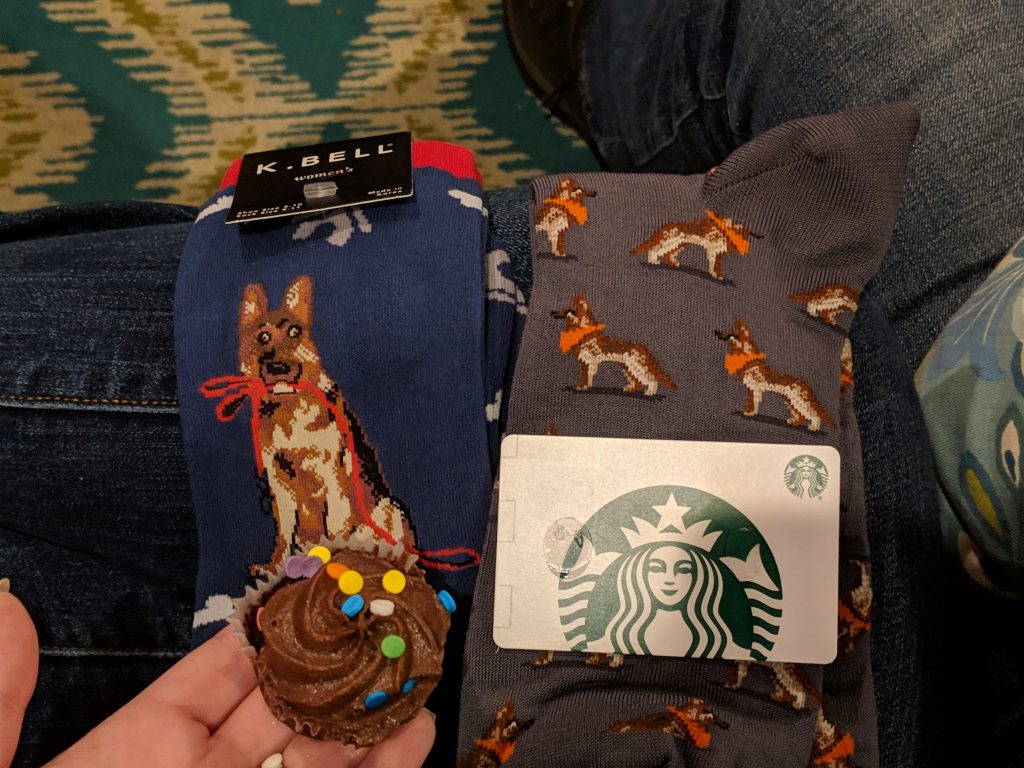 Saturday wasn't nearly as lazy of a morning as the last two days – we had places to be! The last trip I took to Corpus for work, I'd seen signs for places that offered horse rides along the beach. So I ran it by the family, and we booked our rides for Saturday morning! We booked through Horses on the Beach. It was a bit chilly that morning, but they had extra jackets and gloves that we gratefully took advantage of. They asked us some questions about our horse riding experience and comfort level, and using those responses and our height/body type they matched us up with our horse for the morning. It was an hour long ride, during which we were known by our horse's name, since the guides knew the horses' names better than ours! Aaron rode Jac, Corey rode Scarface, and I rode Cupid.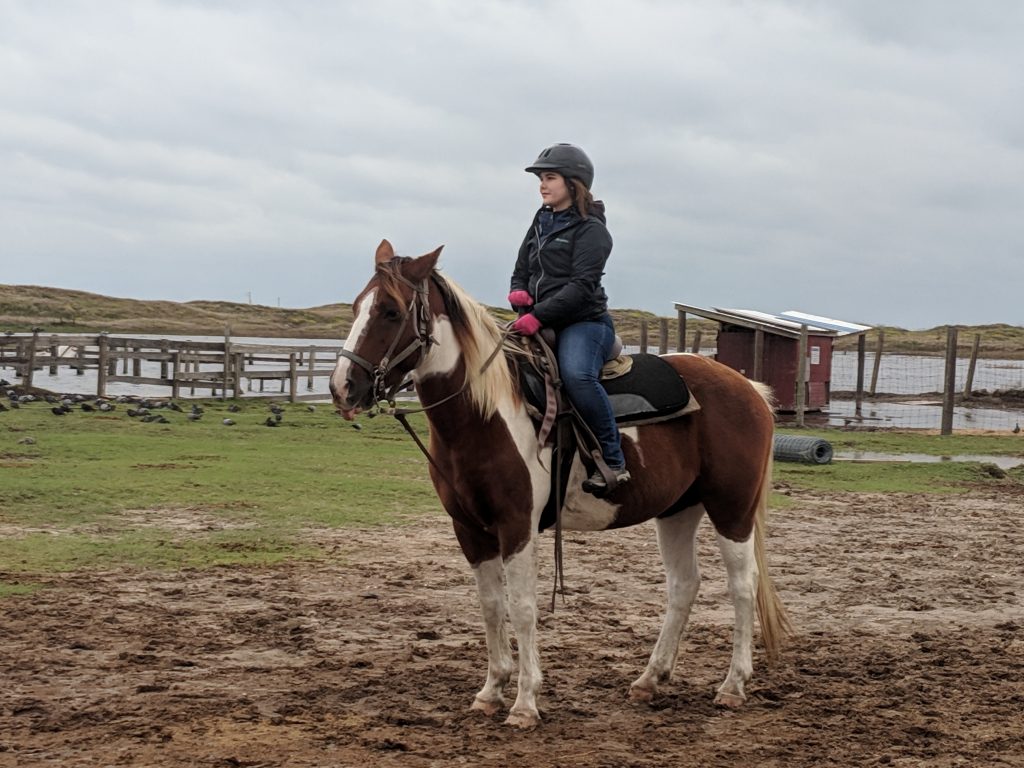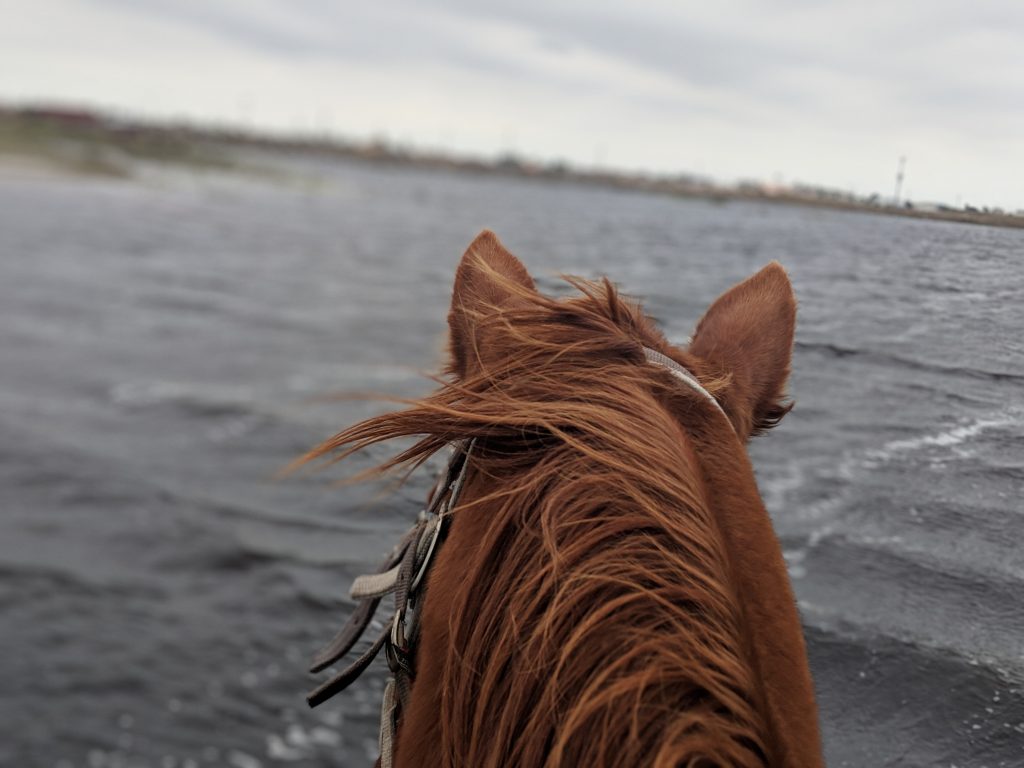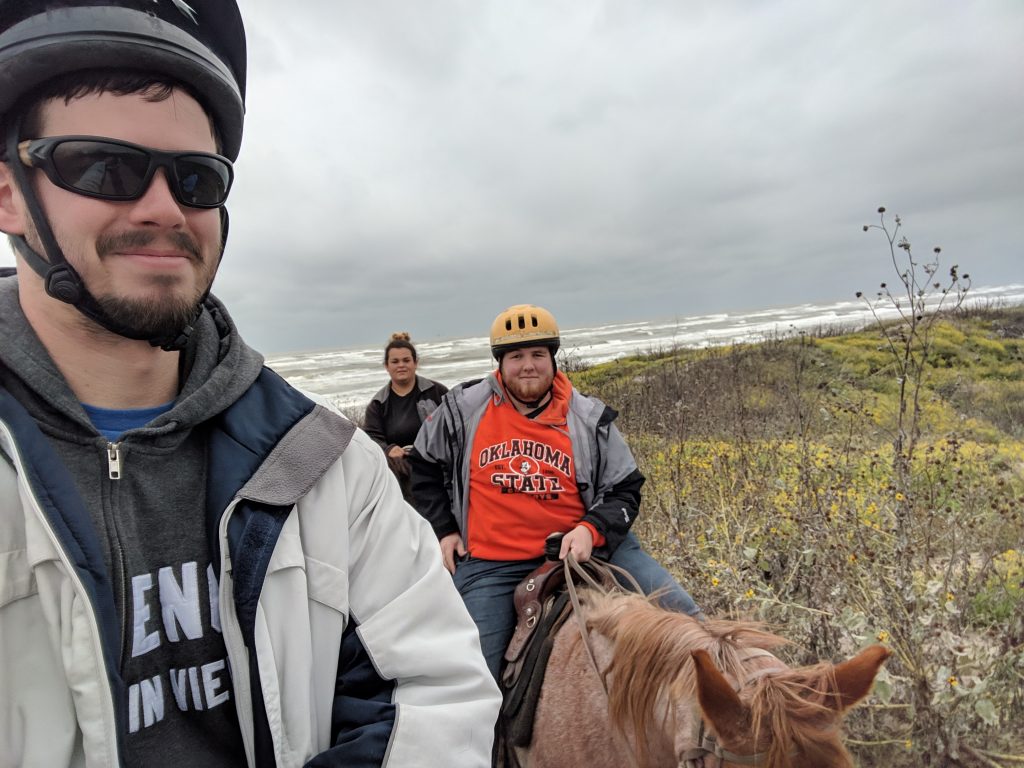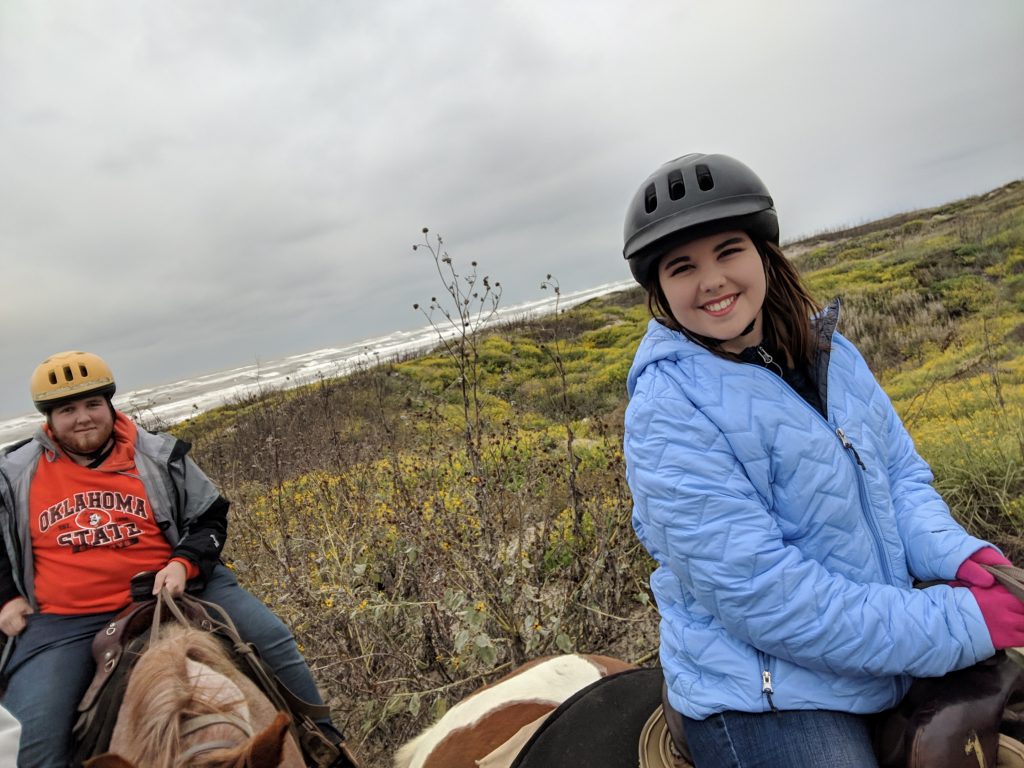 After spending the morning riding horses, we headed back to Corpus to hit the Texas State Aquarium.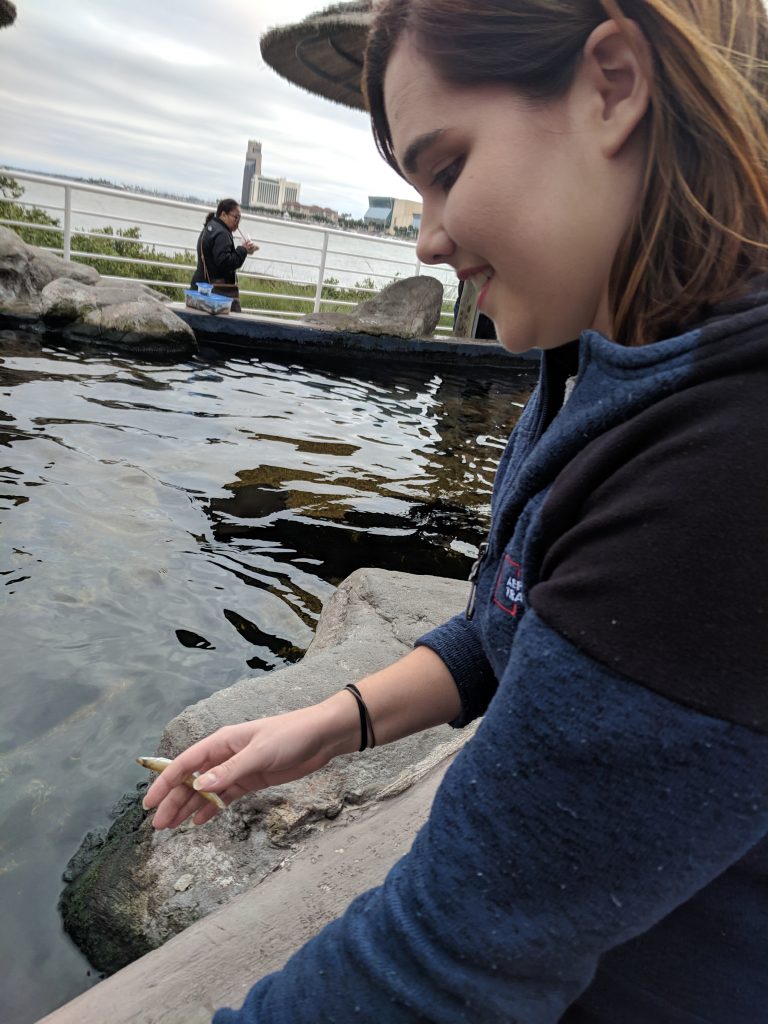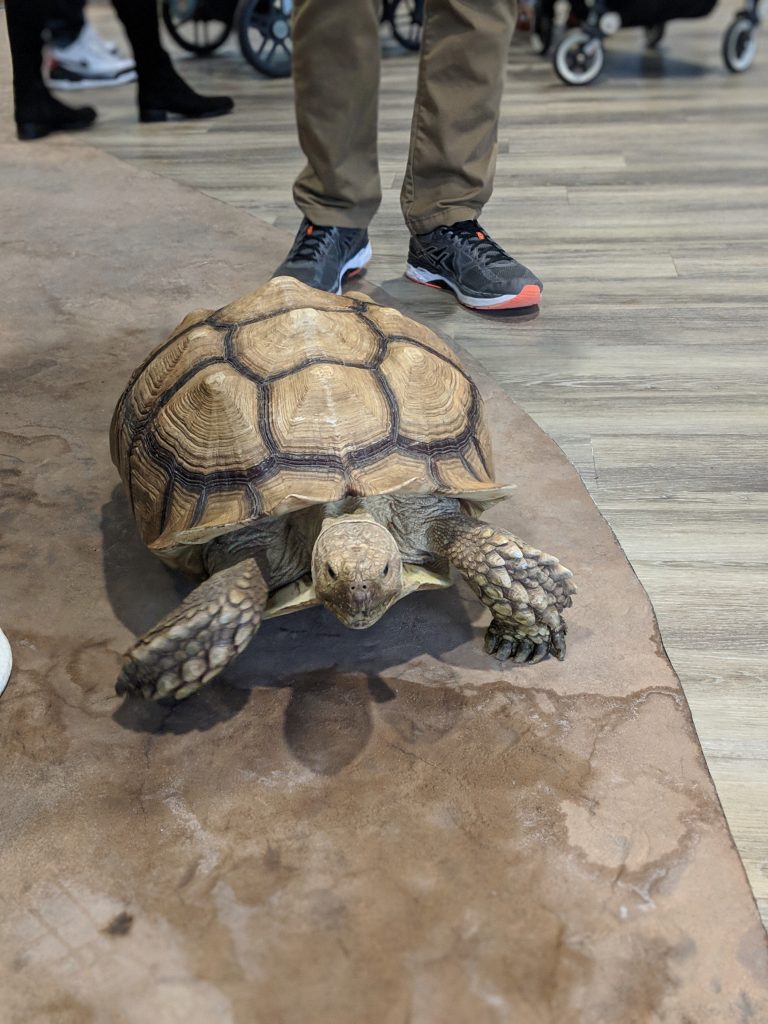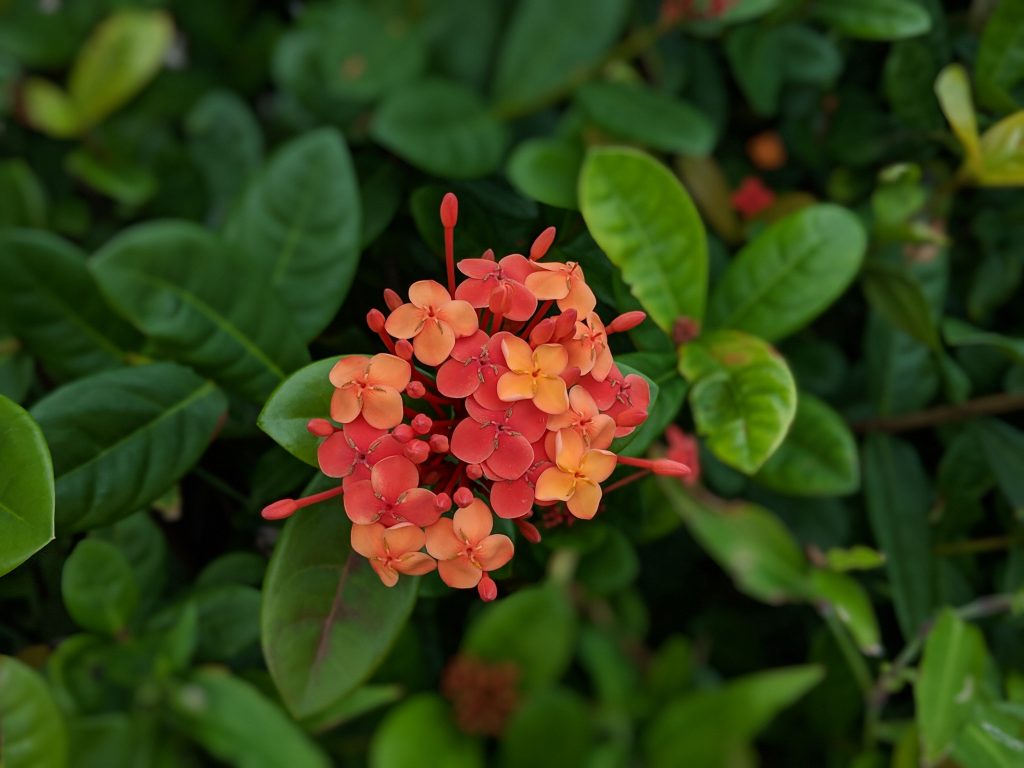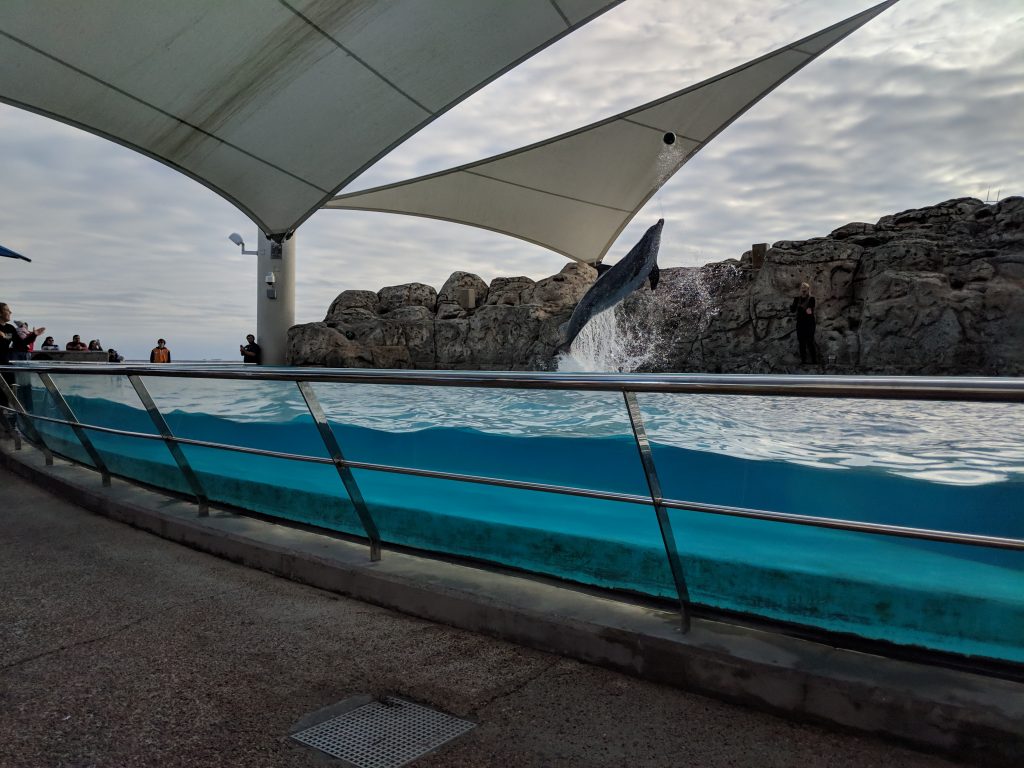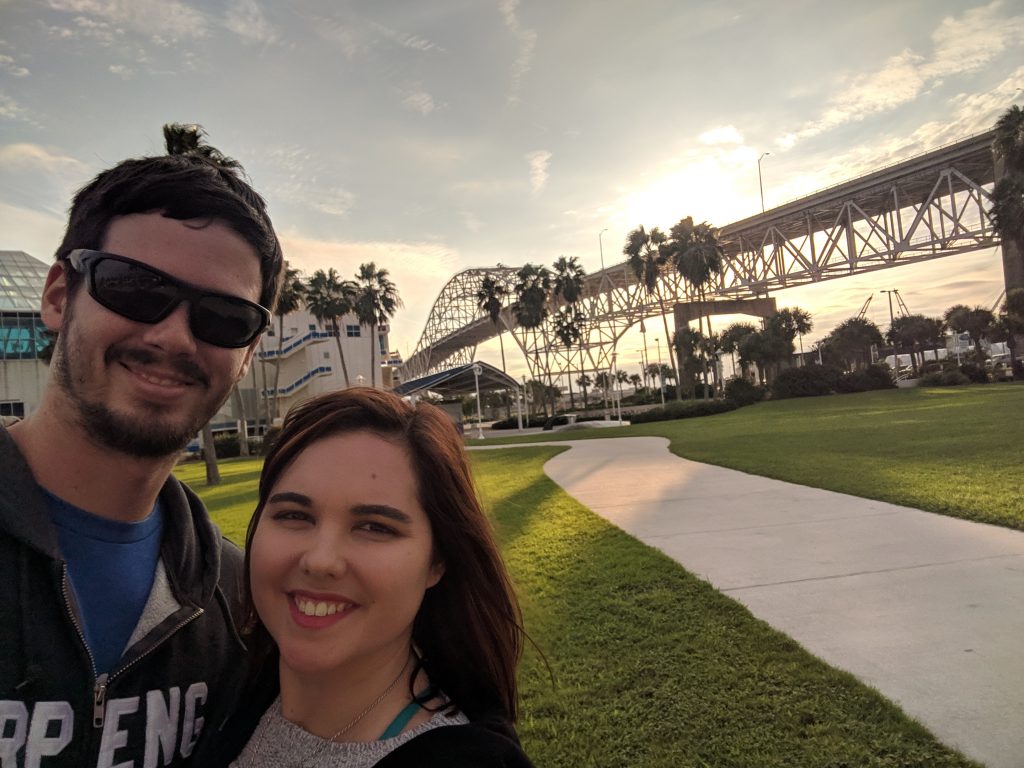 Sunday was spent traveling home. Mom found Peanut Butter M&Ms to snack on, and then she forced Corey to take the rest home with us. Sadly, Bear ate them instead of us, and we had to clean up the mess!
Anyways, I think family vacations are going to become a tradition for us again. I hope so, at least. Corpus treated us well, but I think we'll explore a different city next time.
Hasta luego,
Aiden