Now that the holiday season is (basically) over, I wanted to share one of my hobbies with you guys: cross stitching! It's something I've been doing off and on since senior year of high school when my mom and grandma taught me. It's sort of a generational thing. I've finished a few projects lately, and I wanted to share 🙂
Penguin!
This one is a bit of a throwback. Facebook tells me I uploaded this pic in December of 2014 (yes, I had to search my Facebook uploads to find a picture). I tend to cross stitch when it's cold and nasty outside, so it's historically been a winter craft for me. I finished this little guy over a Christmas break between college semesters. Aren't his little pink cheeks adorable?? Finished stitched area is ~3″x3″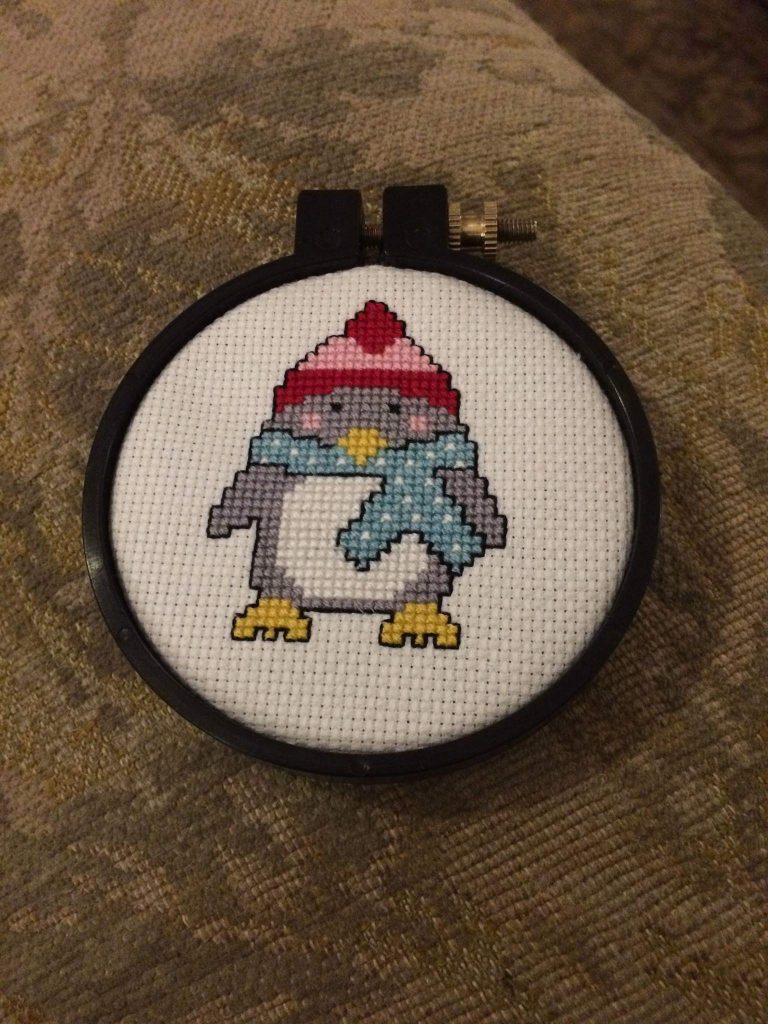 Mushroom!
Now we're into more recent works 😉 As in, I did the penguin and then semi forgot about cross stitching for a while. I picked it back up this season with a quick little mushroom! This is the project that I learned about quarter stitching. When you cross stitch on Aida fabric (most common), there are holes in the fabric by design. You make a bunch of little X's with your thread. With a quarter stitch, you take your thread up through one of the pre-made holes and then stab it through the fabric where a normal X would cross. It's a pain in the butt, especially on stiff fabric, but it makes the outlining so clean. Check out the spots on the mushroom head for an example. Finished stitched area is ~2″x2″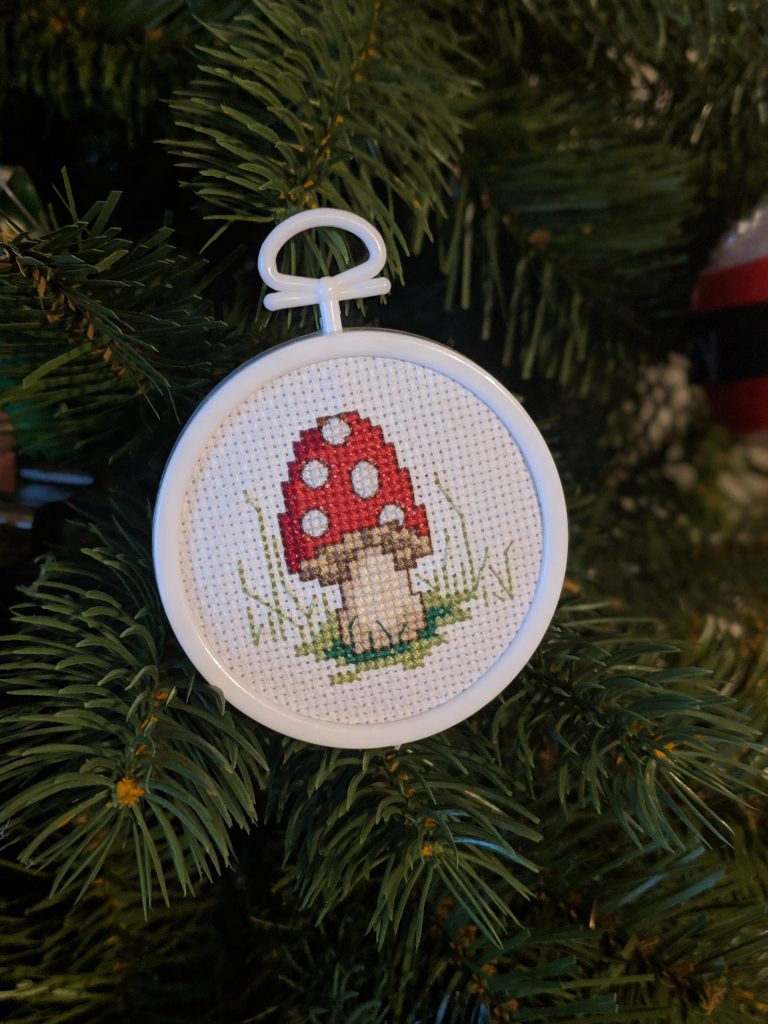 Barn!
This is one I picked up a few days ago at Hobby Lobby and I couldn't wait to stitch it! Our house has a bit of a farmhouse/rustic vibe going on, so I thought this would be a perfect little project. This is another project where I had to use the quarter-stitch technique in some places, like the rooster weather vane. Such. Clean. Lines. Finished stitched area is ~2.5″x2.5″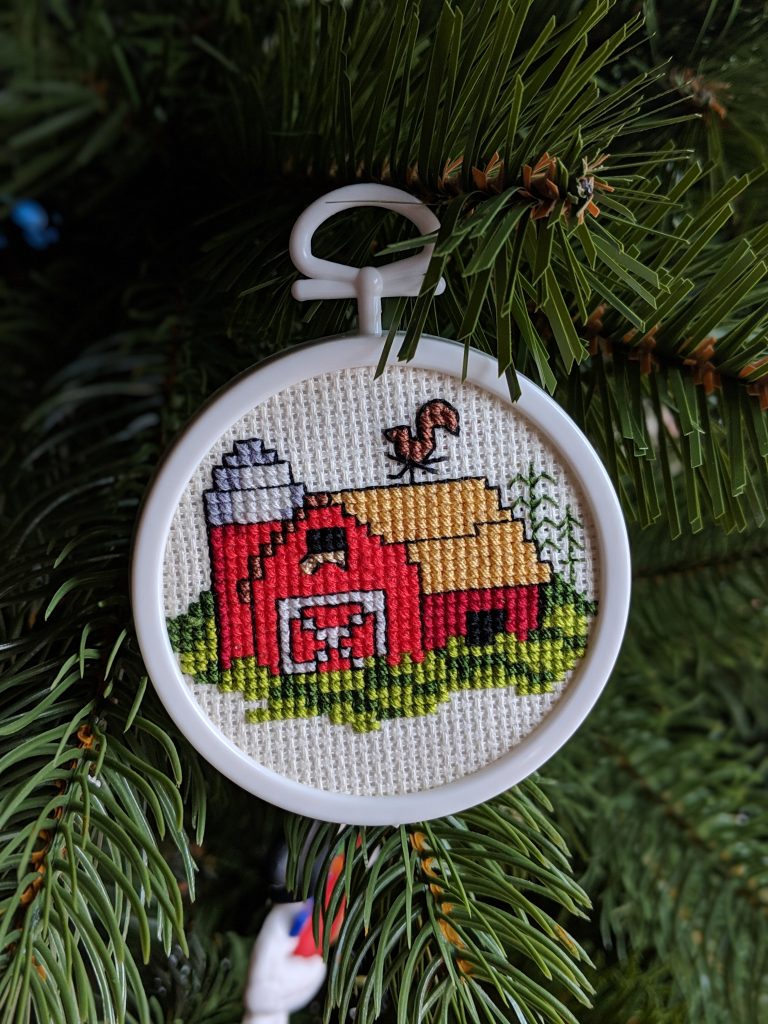 Air Force!
This is the largest piece I've ever finished. As you can see, I tend to go for the smaller projects that I can finish pretty quickly. Since I have a tendency to only stitch in the winter, finishing these little projects keeps me more motivated. This one, though, is special. My dad's career was with the military for my entire childhood/adolescence, and even into early adulthood. He retired in 2014 and now works for the DoJ. I was perusing Hobby Lobby one day and saw this kit and knew I had to stitch it for him! The kit actually had thread and instructions for each of the 5 branches, and you could pick which one to do. Dad served in the Air National Guard, so I chose to do the Air Force pattern. I gave it to him for Christmas this year after working on it sporadically for about a year and a half! I never claimed to be quick at this 🙂 His name is at the bottom, but I cropped that part out 😉 I wish I'd known about quarter-stitching for this project; that could have made the lines a bit cleaner. I finished this one before the mushroom though, so I hadn't learned that yet. But regardless, I'm happy with the final product. Finished area will be framed in a a 5″x7″ frame.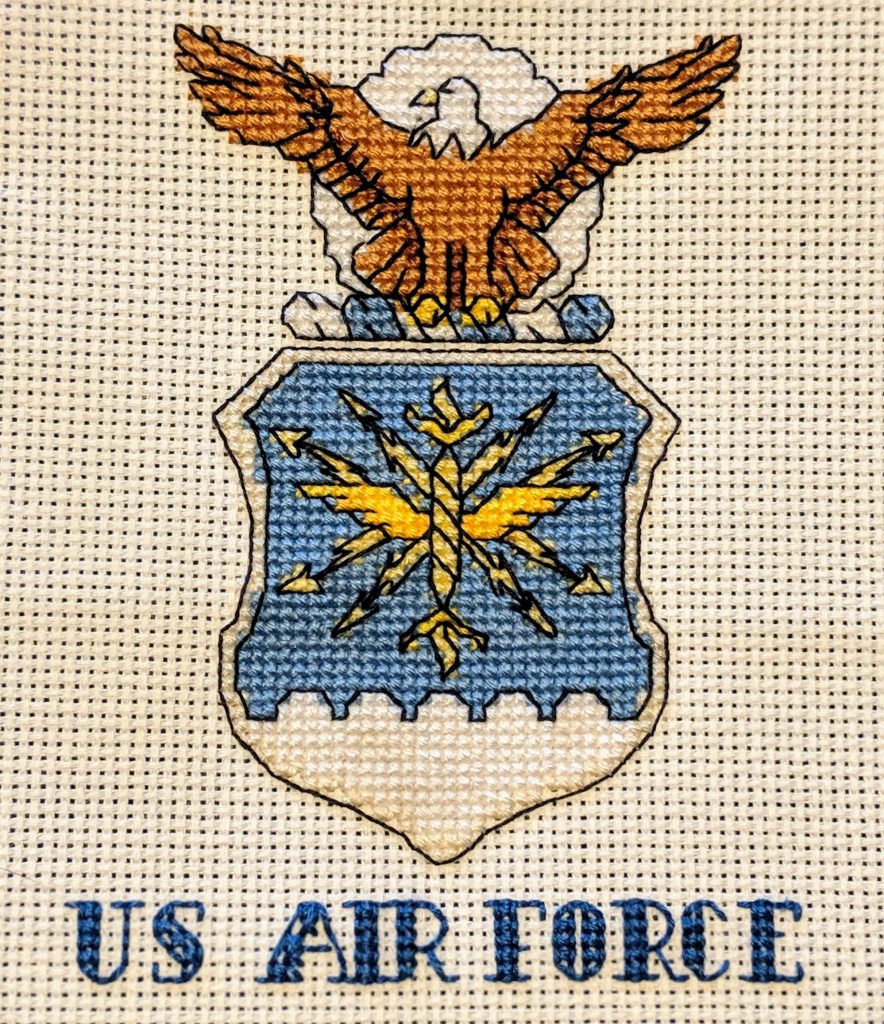 My goal this year is to stitch more consistently. I have several other projects in-flight, and I'll share when I get them finished, for sure! Who knows, maybe I'll give y'all a few progress pictures as well. We'll see!
Stitch on,
Aiden