Hey guys! It's been a while since we've chatted. As you can imagine, life has been kind of crazy since Hawai'i. Between that trip back in March and now, quite a bit has happened. We're now engaged and planning a wedding, we have a house (rent, but it's a house!), and Corey finally moved home!!
So after a series of events that was much more drawn out than it needed to be, Corey transferred to the Google office here. Even though the process was painful, the end result really worked out nicely. I don't think I have to explain to y'all how much easier things were since he transferred offices within the same company rather than leaving and starting over.
Once all of the paperwork came through, we made our travel arrangements. The plan was pretty simple. I'd fly out to California, and then we'd road trip it back home. We were on a pretty tight schedule, since I'm fairly limited on vacation time with a wedding coming up later this year. So I flew out on a Wednesday, we had lunch at campus and said bye to some of Corey's coworkers and friends (that was emotional), and we hit the road that afternoon. Between a very early morning flight for me and several hours on the road in Bay Area rush hour traffic, it was a ridiculously long day. We rolled into our hotel room past midnight, at which point I'd been up for nearly 24 hours with all the time changes. Needless to say, we crashed pretty hard once we got to the room.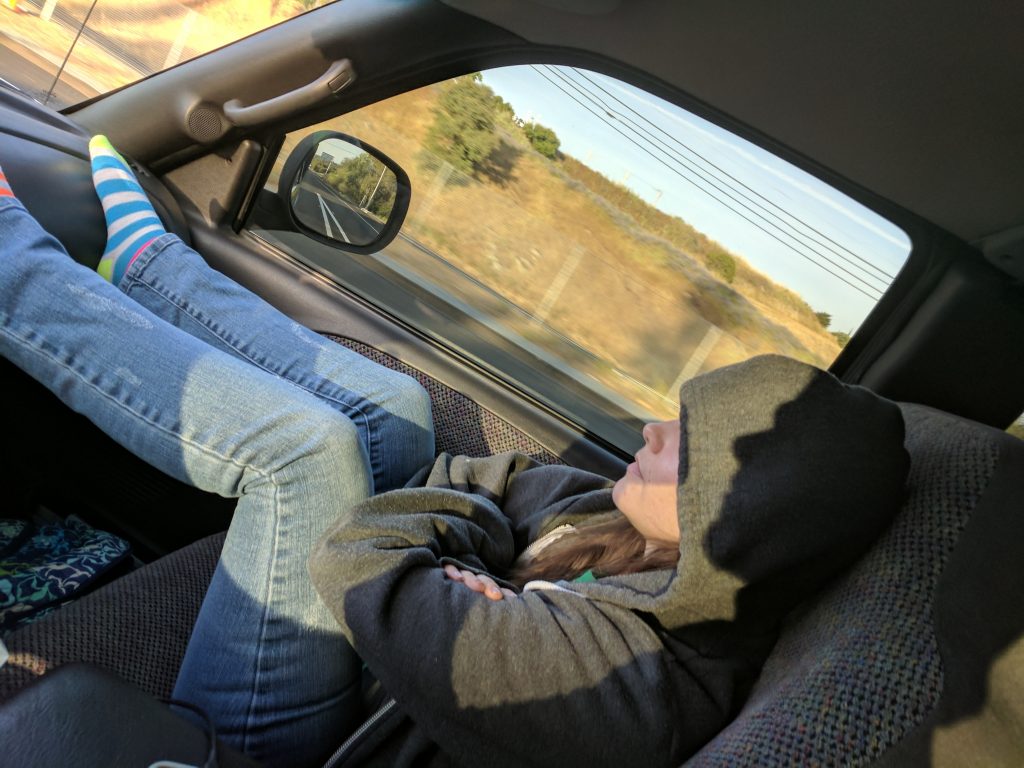 Day 2 started off in scenic Middle of Nowhere, Nevada, and it was another long, albeit kinda neat, day. I don't think I can say much more than that, but it was kinda fun. We ended the day in Denver, CO.
I think Day 3 was my favorite! We decided to do a destination wedding that rolls nicely into our honeymoon, since we love traveling so much. We'd been looking into places around the Denver area, and Day 3 started off with an appointment to see one in person! It was by far our favorite, and they cover pretty much everything, which would make our lives that much easier on our actual wedding day. Thankfully, the pictures on the website were absolutely spot on — the place was perfect! We booked our date right there 🙂
The rest of the day was spent making our way down to Amarillo. Driving south out of Denver and down through Colorado Springs was beautiful! Once we hit Texas, the terrain flattened out. We met up with family in Amarillo to celebrate our sister-in-law's graduation (yay Paige!) and spend the night with everyone. It was great relaxing with family for the evening, rather than being in a hotel.
We left Amarillo around lunchtime on Sunday, and made a pit stop in Edmond to hang out with my side of the family. Finally, after several long days of traveling, we rolled up to the rent house. I had gone over before I left and stocked it with essentials (y'know, like toilet paper, soap, and peanut butter) so we didn't necessarily need to go to the store right after we moved.
Unloading the truck/trailer was an adventure. It was full dark by the time we got home, and we needed to back into the driveway to make it easier to unload stuff into the house. Easy, right? Ha! Our driveway slopes downhill into the house, AND it curves. It's taken me several weeks to get used to it, but I think I have it sort of mastered. Ish. So Corey, bless his heart, had to back down a curved, downhill driveway, in the dark, with a trailer with a short wheelbase. It took some backing in-pulling forward-readjusting kind of maneuvering, but he nailed it! I was so proud.
I had called some friends of ours to help unload, so once all the boxes were out of the truck/trailer, we ordered pizza and sat on the floor of our empty living room. What was the first thing we did? If you said unpack or organize or something, you'd be incorrect. Corey and John flew quadcopters around the empty space.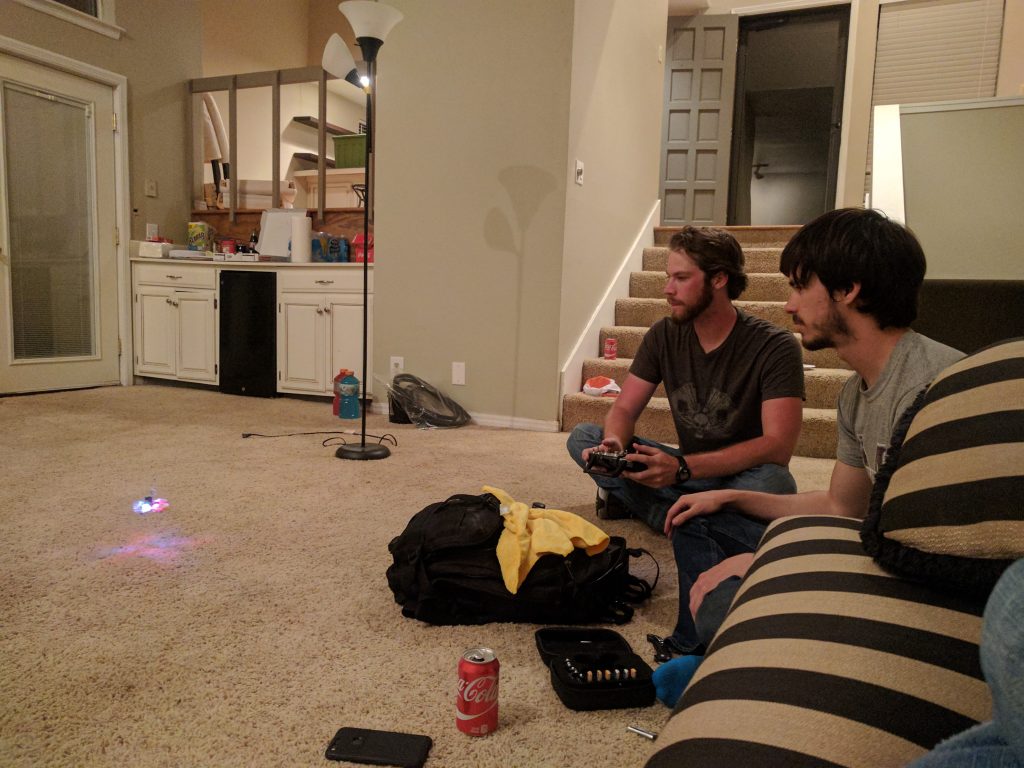 Over the next several weeks, we arranged and unpacked boxes as well as moved stuff from my apartment into the house. After a few weeks, we decided that our college couches needed to be replaced, so we bought a new one. It got delivered without two of its cushions, and the ottoman was damaged. Still working on getting that fixed.
I'll leave you with pictures, since I've done enough talking for this post. The next one will be more of a bear to write 😉
Later,
Aiden